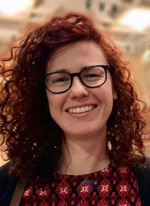 History of Art and Architecture
Sixteenth- and seventeenth-century Spanish and Latin American art; interactions of art, science, and archaeology; early modern art theory; histories of record-keeping and evidence-handling technologies; historiographies of art.
B.A. (Licenciatura), Universidad Autónoma de Madrid, Spain
M.A. (Diploma de Estudios Avanzados), Universidad Autónoma de Madrid, Spain
M.A. Johns Hopkins University
Ph.D. Johns Hopkins University
María Lumbreras is a historian of early modern Iberian art and visual culture. One focus of her research is the history of antiquarianism, particularly the roles played by replication and material experimentation in period understandings of evidence. Other interests include artistic networks of exchange, premodern environmental thinking and its relationship to art-making, archival practices, and sixteenth- and seventeenth-century philosophies of expertise.

Lumbreras is currently at work in her first book, The Facture of Evidence: Replication and the Past in Early Modern Spain, which examines the intersection of antiquarian, naturalist, and artistic practices in Habsburg Spain at the turn of the seventeenth century. The project traces the history of type of reproductive artifact of modest legal origins called retrato ("portrait"), which became central to redefining notions of the material trace and its recognition at a crucial moment: a time when the rise of sacred history faced Iberian experts with the uncomfortable question of what it meant for them––artists, but also theologians, physicians, philosophers, and collectors––to produce, rather than find, visual evidence. Her account is the first to chart the invention and uses of evidence-seeing technologies in late Renaissance archeology against a growing interest in error, ignorance, and frailties of human knowledge––the complex epistemic legacy of Spain's multi-confessional past.

Lumbreras received her PhD from Johns Hopkins University and her MA and BA from the Universidad Autónoma in Madrid. Her research has been supported by the Center for Advanced Study in the Visual Arts, the Singleton Center for the Study of Premodern Europe, the Metropolitan Museum of Art, and Harvard University.